What's New- Crimsafe
Hurricane Debris Protection
Atlantic Storm Protection is actively providing Crimsafe security and hurricane protection for Brevard and Volusia counties.
Crimsafe products are ideal for extra protection in hurricane regions. As well as providing security from intruders, these debris screens can protect your home or business against storm driven debris from wind gusts up to 150 mph.
Crimsafe is a stainless steel mesh and frame system. Using 5 times the screws, Crimsafe also utilizes a double clamping design to provide a stronger and more secure grip on the mesh. Crimsafe features a unique 'build-out' installation for even greater protection.
Additional benefits:
Fixed Window Screens
Doors
Safe-S-Cape®
Inswing Safe-S-Capes®
Patio Enclosures
One additional benefit is Crimsafe's 10 year warranty.
Call us today to find out more about Crimsafe.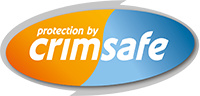 ---
Electric Roll Down Bug Screens
At Atlantic Storm Protection, we can provide protection from more than just storms; we also protect your family from pesky insects as well.
If you live in a condo that does not permit you to enclose your lanai with a screen, use your garage as an outdoor living space, or have an outdoor space that is not permanently screened by roll down shutters, then our Electric Roll Down Bug Screen is the perfect solution for you.
We can combine the roll down screens with roll down shutters and you can operate your whole home with a single remote control.
Benefits of our Electric Roll Down Bug Screens include:
Protection - against damaging sunlight, insects and storm
Flexibility - our products are placed when you need them, and can be retracted when you don't
Appearance - enhance the look and feel of your property with a wide selection of screens to choose from
Atlantic Storm Protection's Electric Roll Down Bug Screens utilize an aluminum bottom bar with no visible seam. They are designed to meet the highest standards in the industry, and to protect your property against unwanted insects.